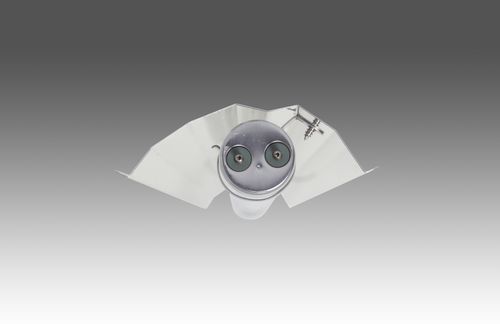 Copyright Sumitomo 3M

Sumitomo 3M Ltd., a major chemical and electric accessories manufacturer in Japan, announced on January 25, 2012, that it has started sales of a reflective plate for fluorescent lamps that intensifies light by about 50 percent with the same amount of power. The plate can easily be installed on existing lamps by removing the fluorescent tube from the fixture and attaching the plate to the tube with the catcher before replacing it.
The highly efficient reflective material made by an original surface-reflecting method achieves a 95 percent reflection rate. The reflective plate is non-symmetrically designed, helping to effectively both reflect and concentrate light that goes back to the fluorescent tube or light that goes in the wrong direction. In addition, by reversing the direction of the plate, two types of lighting direction can be chosen, and changing the angle of the plate can easily adjust the range of lighting.
Offices and schools are reducing the number of fluorescent lights as a comparatively easy way to save power. However, this can lead to a deterioration of the lighting environment. By using the reflective plate, the lighting environment can be improved even if the number of lights is decreased. Formerly, this reflective plate had been sold only to equipment servicers, but the new plate is made for ordinary consumers to install by themselves.
Environmentally Friendly Tunnel Lighting System Released (Related JFS article)
http://www.japanfs.org/en/pages/026400.html
Energy-efficient Lighting Technology Adopted for New Office Building in Tokyo (Related JFS article)
http://www.japanfs.org/en/pages/025999.html
Posted: 2012/04/21 06:00:15 AM