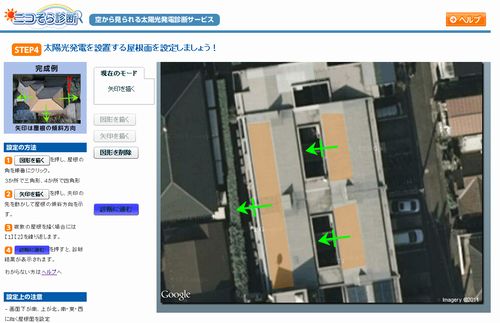 Copyright Ecosystem Japan Co.

Ecosystem Japan Co., a photovoltaics (PV) system company, started an epoch-making simulation service "Nikosora Consultation" with a sector peer company Solar Energy Solutions Inc. on January 14, 2011. The system helps users judge the availability of home solar power installation services using web-based aerial maps.
The service provides an evaluation of cost-effectiveness by considering the adequacy of installation on the house roof, contribution to the household budget and environment, expected generation capacity, subsidies, etc., through the portal site for PV "Shouene.com" (http://www.shouene.com/), which is managed by Ecosystem Japan. The simulation enables users to easily assess the viability of solar options, except in areas where services are unavailable, or for new buildings.
By providing the simulation on the web, Ecosystem Japan can respond to user inquiries regarding the effectiveness and suitability of PV for their homes, which are the most common issues when considering PV installation. The system also provides an estimate.
Posted: 2011/05/11 06:00:15 AM