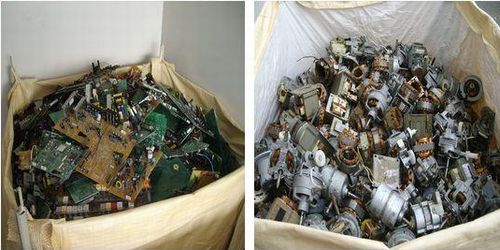 Copyright Chofu city

The city of Chofu in Tokyo started a new program in November 2010 for recycling components such as electric circuit boards and hard disks from home appliances, collected as bulky waste. This is the first program of its kind in any of the municipalities in Tokyo.
The city collects over 11,000 pieces of used home appliances every year. In the new program, recyclable components are removed from the products and then sent to metal refining companies, which extract and recycle metals such as gold, silver, copper, and rare metals including palladium.
The program targets large used home appliances more than 40 centimeters in size, including DVD players, video cassette recorders, printers, word processors, microwaves, electric fans, and vacuum cleaners. Products covered under the Home Appliance Recycling Act are excluded from the target list of items. Components such as motors, transformers, electric circuit boards, hard disks, DVD laser pick-up devices, and power cables are removed, and then any metals recovered are extracted for recycling.
Chofu is located almost in the center of Tokyo, and with a population of 220,000, it is the 22nd largest city among the 62 municipalities (wards, cities, towns, and villages) in Tokyo. It was ranked as having the third highest recycling rate (at 45.6 percent) among the municipalities with populations over 100,000 and under 500,000, according to a nationwide survey on the state of discharge and treatment of municipal solid waste conducted by Japan's Ministry of the Environment in fiscal 2008.
Could Japan Be Rich in Resources? Exploiting the 'Urban Mine' Effectively
http://www.japanfs.org/en/mailmagazine/newsletter/pages/027844.html
Posted: 2011/04/04 06:00:15 AM