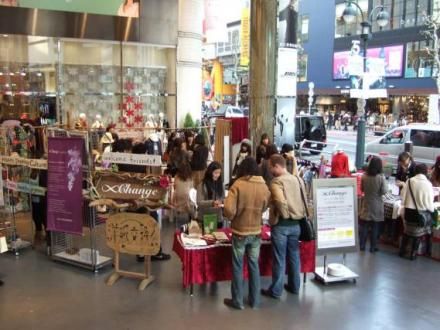 Copyright Marui Group Co.

Marui Group Co., a large Japanese retailer that operates fashion stores across Japan, held a fashion-swapping event named xChange at its MARUI CITY store in Shibuya, Tokyo from November 26 to 28, 2010. The event is part of the company's Earth Smile Project.
The xChange event offers the opportunity for people to exchange clothes that no longer fit them with much loved but now unwanted articles owned by others. Participants place tags on each of the items they brought, and they write a brief episode about the clothing and a message for the new owner. In this way, participants exchange both their fashion items and related sentiments or anecdotes.
The event was operated by student volunteers from Tokai and Meiji Gakuin Universities, as well as volunteers from Marui Group. They gave the participants fashion coordination tips and created an enjoyable space designed for the event, using hand-crafted bamboo racks.
During the three-day event, a total of 232 people brought 1,157 clothing items, and 768 of these were exchanged. Some responses were as follows: "I was happy to give not only my clothes, but also their stories", "I was able to try on different types of clothes that I've never worn before", "While exchanging our clothes, we enjoyed talking about fashion coordination as well."
"Fashion Swap" Concept Grows in Japan
"xChange" -- Environment Meets the Fashion Industry --
http://www.japanfs.org/en/mailmagazine/newsletter/pages/028925.html
Posted: 2011/03/27 06:00:15 AM