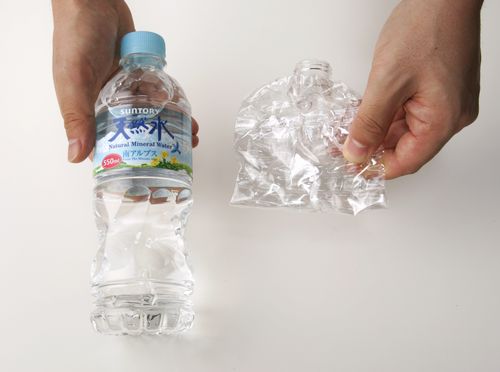 Copyright Suntory Beverage and Food Limited

Suntory Beverage and Food Limited will release the new series of "Suntory Natural Mineral Water" in 550ml plastic bottles on March 8, 2011. The conventional 500ml bottles will be replaced with 550ml newly-developed 'P-ecot' bottles, named after its "easy-to-squash" design.
An ice-shaped bottle design expressing the natural taste of the mineral water brand was again applied to the new bottle. The new bottle weighs 13.5 grams, approximately 40 percent lighter than the older bottles, which allows for a roughly 40% reduction in petroleum-derived plastic and saves about 7600 tons of carbon dioxide emissions. The company's unique technology of easy-to-squash bottles is also expected to make recycling easier, helping households save space.
As part of its effort to develop bottles for mineral water, in 2010 Suntory has achieved a lighter two-liter plastic bottle and the thinnest product label. The company is also developing eco-friendly containers by, for instance, introducing labels made from discarded PET preforms collected during the plastic bottles manufacturing process.
Water Sustainability: Suntory Group's "Bringing Water to Life" Activities
http://www.japanfs.org/en/mailmagazine/newsletter/pages/029262.html
Posted: 2011/03/17 06:00:15 AM