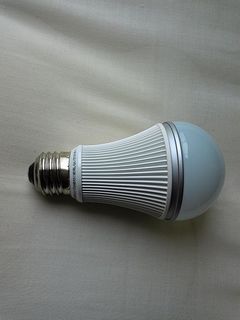 Image by Pow(n,2). Some Rights Reserved.
Fukuoka Prefecture, Japan, conducted from August 21 through October 31, 2010, the "Fukuoka Switch to LED Bulbs Campaign," in which lucky buyers of LED bulbs received special gifts, such as book coupons or rice coupons. The campaign was held to promote a shift to using energy-saving LED bulbs.

In the campaign, purchasers of accepted LED bulbs at registered stores could enter a drawing with a chance to win one of the 10,000 book and rice coupons worth 1,000 yen (about US$12) being given away. Members of Fukuoka Eco-Family as well as non-members, who would become a registered member upon campaign application, were eligible to participate in the drawing.
Fukuoka Eco-Family is the name given to households who strive to use energy efficiently and save resources--for instance by reducing their consumption of electricity, gas, and gasoline--in ways suggested by the program's web site, Fukuoka Ecolife Support Site, and booklet, Fukuoka Ecolife Support Book. Fukuoka Prefecture hosts the website to support residents and families in their effort to live an eco-friendly lifestyle. Residents wanting to participate in the activity can still register themselves as a Fukuoka Eco-Family on the website.
Fukuoka Prefecture hopes that the campaign has helped residents to understand the energy-saving benefits of LED bulbs and that it will inspire each household to actively pursue an eco-friendly lifestyle and help combat global warming.
Fukuoka Prefecture official website
http://www.pref.fukuoka.lg.jp/somu/
multilingual/english/top.html
Posted: 2010/12/17 06:00:15 AM