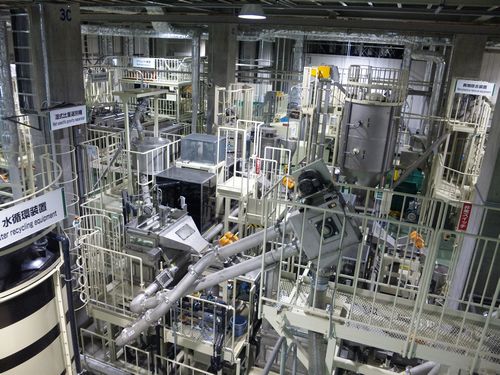 Copyright Mitsubishi Electric Corp.

Japan's Mitsubishi Electric Corp. started large-scale recycling of highly pure plastics at Green Cycle Systems Corp., one of its subsidiary companies, on June 2, 2010. At Green Cycle Systems, mixed plastic generated in the recycling plant from discarded home appliances are automatically sorted and three key types of plastic with such high purity that the plastic can be reused for making home appliances are recovered. This is the first initiative of its kind in Japan.
At the recycling plant, plastic generated from discarded home appliances have previously been sorted and recovered both visually and manually, and part of the recovered plastic has been reused in the electric appliances of Mitsubishi Electric, and other non-reusable plastics have been crushed along with metallic parts and emitted as mixed plastic after recovering metal.
Green cycle Systems treats this mixed plastic and recover three major kinds of highly pure plastic, PP (polypropylene), PS (polystyrene) and ABS (acrylonitrile butadiene styrene), through automatic sorting and recovering processes.
Through this attempt, the annual amount of plastic to be recycled will dramatically expand from about 600 tons to about 7,000 tons. The company states that compared to manufacturing new plastic from petroleum, this will reduce carbon dioxide (CO2) emissions by approximately 7,300 tons.
Mitsubishi Electric Corp. global site
http://global.mitsubishielectric.com/
Posted: 2010/11/17 06:00:15 AM