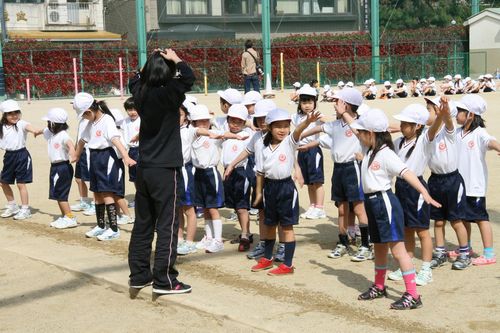 Copyright Teijin Ltd.

Teijin Fibers Ltd., a leading manufacturer of polyester fiber in Japan, announced on April 26, 2010, that it has launched a gym uniform recycling project called "Have a Nice Trip, Welcome Back!" in cooperation with Asahi Kasei Fibers Corporation. In this project, the companies cooperate with elementary and junior high schools in Kyoto City, Kyoto Prefecture, to recycle the gym uniforms using its Teijin Fibers' ECO CIRCLE recycling system.
ECO CIRCLE is a closed-loop recycling system centering on Teijin's first-in-the-world chemical recycling technology for polyester products. The company has been promoting product development, collection and recycling jointly with more than 130 domestic and foreign businesses. The polyester products produced using the system can be reproduced into new polyester raw materials with quality equivalent to that of those made with petroleum and recycled repeatedly.
Schools participating in the project use the gym uniforms produced using Teijin Fibers' or Asahi Kasei Fibers' recyclable polyester fibers and collect unnecessary ones after being used. Gosho Minami Elementary School in Kyoto is the first to use the gym uniforms for first-grade students and work on recycling. In this project, teachers receive used gym uniforms directly from students when collecting them, to raise environmental awareness among students through face-to-face communication.
Japanese Fiber Manufacturer Promoting Closed-Loop Clothing Recycling System in China (Related JFS article)
http://www.japanfs.org/en/pages/029611.html
Teijin Fibers Ltd. official website
http://www.teijin.co.jp/english/
Posted: 2010/09/30 06:00:15 AM