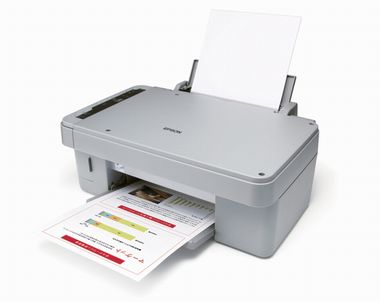 Copyright Seiko Epson Corp.

Seiko Epson Corp., a major Japanese electronics manufacturer, released in Japan on May 12, 2010, a new inkjet printer, the EC-01, which does not use ink cartridges.
The EC-01 incorporates large-capacity ink packs, enough to print an average of 8,000 pages (single-sided continuous printing on A4 plain paper based on ISO/IEC24711). When the amount of remaining ink reaches a certain level, the printer is returned to Epson. Then, the company replaces the ink packs and reconditions the printer for reuse, resulting in a reduction in environmental impacts.
By adopting built-in ink packs, the company has achieved a 96 percent reduction in the lifecycle carbon dioxide emissions of cartridges, from material and product manufacturing to disposal or recycling of used cartridges, compared to the Epson PX-101 inkjet printer with ink cartridges, released in 2008. Environmental impacts throughout the entire lifecycle of the printer are also reduced significantly by reusing the printer body after replacement of the ink pack.
Furthermore, the EC-01 is designed for low power consumption. When in use, the EC-01 consumes 88 percent less electricity than the company's LP-V500 A4 color printer.
Since there is no need to stock up on ink cartridges, EC-01 users are saved the trouble of replacing cartridges and managing consumable supplies.
'Drawer-Style Printer' Wins Grand Prize at Eco Products Design Competition (Related JFS article)
http://www.japanfs.org/en/pages/027054.html
Seiko Epson Corp. official website
http://www.epson.com/
Posted: 2010/08/30 06:00:15 AM