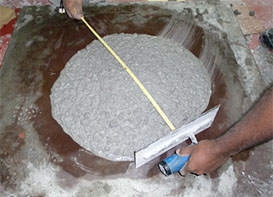 Copyright Obayashi Corp.
Obayashi Corp., a major Japanese construction company, announced on May 14, 2010, that it has developed a new type of concrete that produces 80 percent less carbon dioxide (CO2) emissions during manufacturing compared to normal-weight concrete.

Using an increased amount of ground granulated blast-furnace slag -- a byproduct of the steelmaking process -- as an admixture, is one of the keys to being able to significantly reduce cement production-related CO2 emissions. Also, the addition of special chemicals makes the newly developed concrete equivalent in usability and strength to normal-weight concrete.
The low-carbon concrete costs about the same as normal-weight concrete, but is less likely to crack after casting because it emits less heat of hydration. It is thus considered suitable not only for general use but also as massive concrete for larger structures. Moreover, since it can be made high fluidity concrete, the vibrator process can be omitted, which contributes further to reducing CO2 emissions.
Obayashi Corp. plans to continue with various verification tests for long-term durability and constitutive property through each stage of production, in preparation for commercialization of its low-carbon concrete, which is just one of the company's environmentally friendly technologies.
Japan Climate Leaders' Partnership Adds Two More Companies, Reaches Seven Members (Related JFS article)
http://www.japanfs.org/en/pages/029708.html
Japanese Construction Companies to Develop Long-Life Concrete (Related JFS article)
http://www.japanfs.org/en/pages/026577.html
Obayashi Corp. global site
http://www.obayashi.co.jp/english/
Posted: 2010/08/25 06:00:15 AM