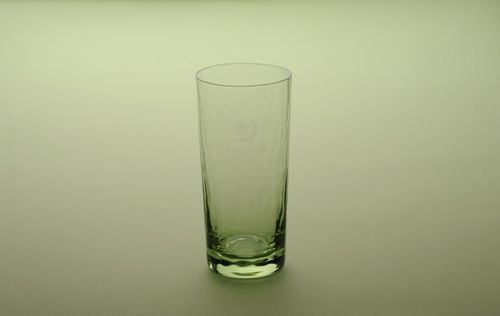 Copyright Pronto Corporation

Pronto Corporation, which operates a chain of cafes, developed the Pronto Eco Glass, a recycled glass made from used bottles of Suntory's Kakubin whisky, and started using them on May 1, 2010, at its 151 Caffe & Bar Pronto outlets nationwide named. The company is jointly-owned by Suntory Holdings, Ltd., a leading beverage manufacturer, and UCC Ueshima Coffee Co., Ltd. Special drinks using the Hakushu 10-year old whisky are served in these recycled glasses, as part of the Pronto Love Green Campaign launched in 2010.
The glass is the first Eco-Mark certified product developed in the Japanese restaurant chain industry. It is also the first in Japan to use self-developed recycled tableware for business use. The light green color of the glass conjures up the image of forests. Comprised of more than 80% glass cullet, the glass obtained the Eco-Mark certification. Glass blowers, including three traditional craftsmen approved by the Tokyo Metropolitan Government, developed the glass to be only 1.5 millimeters thick at its mouth while maintaining enough strength for business use with chemical treatment. Such a thin glass was said to be difficult to make with recycled glass.
Establishing its environmental policy in 2008, the company has been promoting environmental activities in some outlets. These activities include using light emitting diode (LED) lighting, 100% composting of raw garbage, recycling non-burnable garbage by contracting with designated waste disposal providers, and using uniforms made from recycled plastic bottles. The company plans to develop and offer promotional items using domestic food products, raise funds and donate money for forestation activities, and use eco-friendly products.
REUSABLE GLASS BOTTLES IN JAPAN
http://www.japanfs.org/en/mailmagazine/newsletter/pages/
027782.html
Posted: 2010/07/07 06:00:15 AM