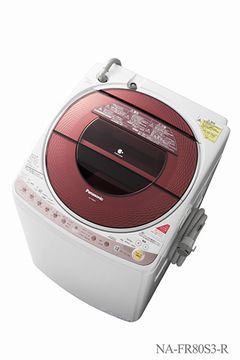 Copyright Panasonic Corp.
Panasonic Corp., a major Japanese home appliance manufacturer, launched new models of top loading type washer/dryers on May 25, 2010. Adding to its conventional system that achieved both high cleaning performance and reduced energy and water usage, its new washer/dryers feature functions that allow more efficient use of energy and water by sensing the level of dirt and amount of laundry.

Also, by using nano-particle ions called "nanoeTM"*, the machines can sterilize and deodorize non-washable items such as leather and hats, while inhibiting the growth of mold in their wash drum. Even delicate clothes that usually need to be dry cleaned can now be washed at home in these machines, because of a special water circulation system that allows detergent to permeate fabric without adding mechanical force and the reduction of drum rotation speed in the spin-dry cycle.
Recently, people have been focusing on improving the energy and water-saving performance of its laundry machines, aided by the growing use of concentrated liquid detergents that can be washed out in just one rinse. In addition, more people are tending to wash their clothes at home to save money, rather than taking them to the cleaners.
*nanoeTM is a trademark of Panasonic Electric Works Co., Ltd.

Panasonic Global site
http://panasonic.net/
Posted: 2010/07/04 06:00:15 AM