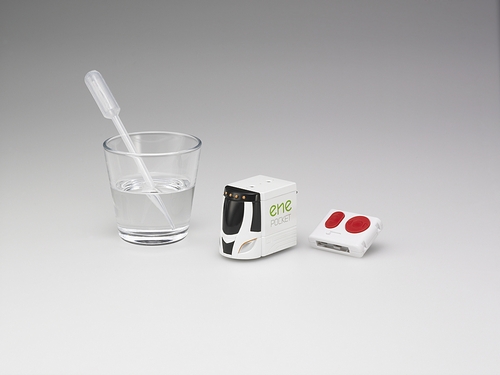 Copyright Tomy Co.

Tomy Co., Ltd., a leading Japanese toy company, exhibited a prototype of a remote control (RC) toy car that runs on Sony's bio battery that generates electricity from juice at Toy Forum 2010, a trade show for toy dealers and distributors, held January 18-19, 2010, at Tokyo International Forum. The prototype of toy car was jointly made by Tomy and Sony.
The RC car "ene Cargo," a concept model for an environmental educational toy, has a bio battery developed by Sony in 2007. The battery uses enzymes to break down the glucose in the juice to generate electricity. The technology is currently being researched with an aim for practical use in the future. With 8 cc of glucose solution, the toy can run for 80 minutes.
At Tomy's "ene Concept zone" at the forum, many other environment-friendly toys were on display, including a prototype of a generator fueled by cola, a juice-powered propeller, and solar-powered toys.
Sony Develops Bio Battery that Generates Electricity from Glucose (Related JFS article)
http://www.japanfs.org/en/pages/026883.html
Posted: 2010/06 01 06:00:15 AM