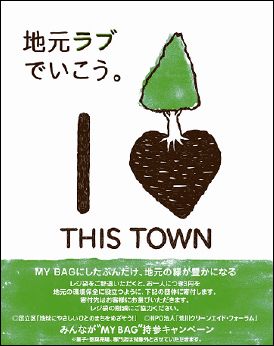 Copyright Marui Group Co.

Marui Group Co., a large Japanese retailer, launched an environmental conservation contribution program at six stores in the Tokyo metropolitan area in February 2010. In the program, shoppers who do not need plastic bags can make a contribution to their local government or to an environmental group. The company hopes to encourage its customers to bring their own shopping bags, as well as to support local environmental conservation activities through the campaign.
When shoppers say no to a plastic bag in the food area, they receive a contribution card. They are then able to put the card into the charity box of the organization which they want to support. The company then donates three yen (about 3.2 cents) per card to the organization to help protect the local environment.
The program is underway at six stores in the area - Kitasenju Marui, Kokubunji Marui, Marui Family Mizonokuchi, Marui Family Ebina, Marui Family Shiki and Totsuka Modi - which have a food area "Shoku Yu Kan." At each store, shoppers can choose to contribute either to the local government or a local environmental group.
Marui Introduces New Carbon Neutral Business Shirts (Related JFS article)
http://www.japanfs.org/en/pages/029076.html
Posted: 2010/05/13 06:00:15 AM