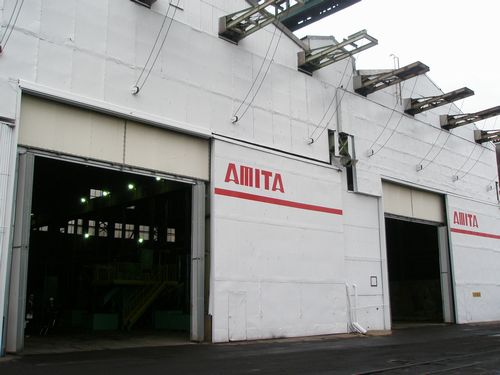 Copyright AMITA CORPORATION

AMITA CORPORATION, a leading Japanese materials recycling company, opened its new materials recycling facility on April 1, 2010, in the coastal area in the city of Kawasaki, Kanagawa Prefecture.
Many production sites are concentrated in this area, known as Japan's industrial heartland, which heightened the need to provide a materials recycling service on a large scale. This new facility has the potential to become the country's core materials recycling center because of its geographical advantages, as it is based in the metropolitan area and conveniently located for marine shipping.
The facility accepts eight types of waste materials, including sludge, oil, plastic, glass, and metal, and it produces consistent cement material with an original blending technology. The maximum production capacity is 158 tons per day.
A waste shredder will also be installed in 2010 to crush products imprinted with company logos, such as time-expired or stocked promotional products, to prevent possible illegal resale. AMITA expects to meet the market's needs by safely providing 100 percent materials recycling.
"DESIGNING A RESOURCE RECYCLING SOCIETY" (AMITA CORPORATION) No.19 (March 2004)
http://www.japanfs.org/en/mailmagazine/newsletter/pages/
027866.html
Posted: 2010/05/03 06:00:15 AM