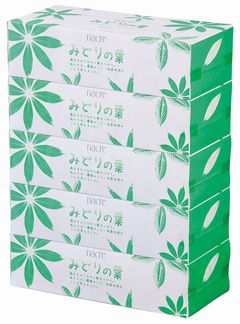 Copyright Co-op Sunnet

Co-op Sunnet, a regional alliance of seven co-ops in the Tohoku region of Japan (Aomori, Akita, Iwate, Miyagi, Yamagata, and Fukushima prefectures), began selling locally-manufactured facial tissue paper on September 28, 2009. Co-op Sunnet developed the product made primarily of pulpwood produced in Tohoku in order to expand the "local production and consumption" movement in the food sector -- known as the local food movement -- into the daily consumer goods sector.
The pulpwood used in manufacturing facial tissue paper in Japan is generally produced from lumber cutoffs and planted forest lumber. Currently, about 75 percent of those raw materials used for facial tissue paper sold in Japan are from foreign countries. In addition, facial tissue paper consumed in Tohoku is manufactured and shipped from factories primarily in Hokkaido, Shizuoka, and prefectures in the Shikoku region.
About 70 percent of the material for the newly developed "nacre Midori no ha" facial tissue paper - which literally means "pearly green leaf" facial tissue paper -- are produced in Tohoku, mainly from the FSC-certified planted hardwood forest owned by the Town of Iwazumi in Iwate Prefecture. The product is also manufactured locally at a factory in Kitakami City, Iwate Prefecture, so the delivery distance is shortened to reduce transportation fuel and carbon dioxide (CO2) emissions significantly.
Co-op Sunnet hopes to stimulate Tohoku's local industries, such as forestry, by selling the locally produced facial tissue paper to local consumers.
Miyagi Prefecture Starts Local Food Days Campaign (Related JFS article)
http://www.japanfs.org/en/pages/027036.html
Posted: 2009/12/08 06:00:15 AM