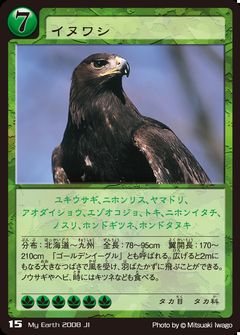 Copyright My Earth Projects LLC

My Earth, a trading card game released by My Earth Projects LLC, had sold a total of 2.8 million cards as of June 2009. The My Earth Projects is a joint venture between Dai Nippon Printing Co., a Japanese full-service printing company, and two students from Keio University.
"Environmental issues are all interconnected," Yuta Okazaki, the creator of My Earth from Keio University Graduate School at Shonan Fujisawa Campus (SFC), explains. "A trading card game allows us to explore these connections. I created My Earth, thinking that the causes and connections of environmental issues illustrated with trading cards could make the learning process enjoyable, so that elementary and junior high school students, among others, can learn about them more easily."
Principal Kazuhiko Komasa, who took up My Earth as a material for its environmental education at Yokohama City Tsutsujigaoka Elementary School, elaborates. "Because environmental education tends to start by covering background knowledge, children can feel as though they are being forced to memorize facts. This game allows children to see environmental issues through voluntary participation."
My Earth has the scalability and variability that are signature characteristics of trading card games, allowing users to create unique, original combinations. The company plans to introduce a second set of cards before the end of 2009 in order to gradually improve and expand the card line-up.
Posted: 2009/10/24 06:00:15 AM