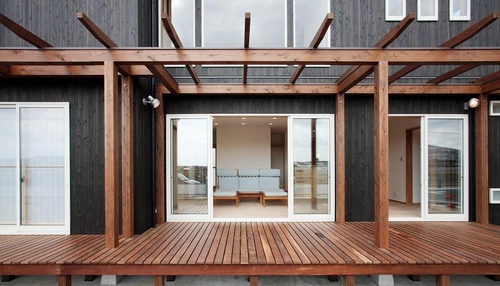 Copyright AKIMURA FLYING-C

G-PROJECT Inc., known in Japan as "Chikyu no Mé", which means, literally, "sprout of the Earth," is a company whose mission is to create social businesses that contribute to sustainable society, started selling carbon-neutral housing lots at the Kobunaki Ecovillage in Omihachiman, Shiga Prefecture, in western Japan on February 26, 2009. The "G" in G-PROJECT's name stands for gaia, green, grand, gracious -- and ghee. The company achieved carbon-neutral housing lots by offsetting the carbon dioxide (CO2) emitted during site preparation.
Sales of the 73 lots in the 20,818-square-meter carbon-neutral subdivision are being made available directly through the company. Based on a proportional allocation of the CO2 emissions resulting from fuel and electricity used during site preparation of the entire Kobunaki Ecovillage (including subdivisions sold by other companies), the total carbon offset required for the company's subdivision was 543 tons. To achieve the offset, the company used Kyoto Credits sourced from a wind power generation project in Tamil Nadu, India.
The company aims to foster awareness and further initiatives to promote a low-carbon lifestyle through issuing original certificates of the offsets to their purchasers.
The Kobunaki Ecovillage, with a total area of 91,319 square meters, is the company's first model project aiming to create a sustainable community, called Ecovillage, which was proposed by "Ecovillage Net Working," a non-profit organization. Housing construction started there in 2008, and residents of the Ecovillage are applying a number of ecological practices such as using rainwater tanks or cultivating home vegetable gardens.
"Making Tomorrow Valuable - Kobunaki Ecovillage Project" (G-Project Co., Ltd.)No.35 (July 2005)
http://www.japanfs.org/en/mailmagazine/newsletter/pages/
027883.html
G Project official website
http://www.chikyunome.co.jp/en/
Posted: 2009/09/26 06:00:15 AM