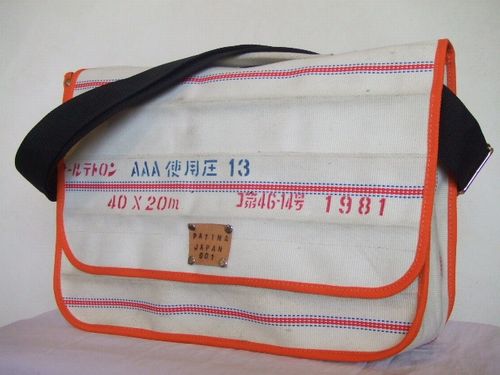 Copyright patina japan

A new line of carrying bags, made of discarded fire hoses, has been on the market since April 2009. They are produced and distributed by Patina Japan -- a company founded to make bags from fire hoses that would otherwise be discarded, including old hoses used for firefighting or fire training, and those that were never used.
Fire hoses, sewed with a polyester yarn, are durable and highly resistant to fire and water. Thus, to recycle fire hoses into shoulder bags and messenger bags, it takes craftsmen much time and effort to cut and sew them manually, one by one. Some of the hoses were made more than 30 years ago, and are considered valuable because of their aging texture and the scars of noble battles to save lives and fight fires. In addition, shoulder straps for some of the bags are made of discarded seat belts, another example of the company's recycling efforts.
Patina Japan seeks to keep contributing to waste reduction, through collaboration with fire hose manufacturers and fire protection equipment companies. The price of the bags is 12,000 yen (about U.S.$124) or more, and part of the proceeds will be used for environmental conservation efforts.
Posted: 2009/09/15 06:00:15 AM