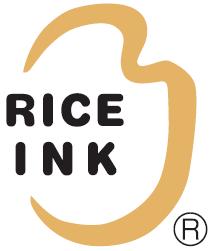 Copyright Sun-A Printing Ltd.
Toyo Ink Mfg. Co., a leading Japanese printing ink manufacturer, recently announced that it had developed a "rice ink", a printing ink using rice bran oil, for practical use.

Toyo Ink developed a "soy oil ink" using soy oil as a solvent medium in 1992 and succeeded in removing a volatile organic compound known to cause air pollution from the ink. From the viewpoint of the recent global trend demanding the use of non-petrochemical materials or carbon-neutral materials as well as concerns over transportation mileage (distance between the production sites and consuming sites), the company has been working to develop an environment-friendly printing ink in collaboration with Sun-A Printing Ltd.
The companies succeeded in using rice bran oil as a solvent medium, which can be obtained and pressed domestically. This newly developed product, announced on November 27, 2008, also makes use of rice bran, which would otherwise be wasted, and contributes to reduce carbon dioxide emissions from transportation.
- Toyo Ink Mfg. Co. official website
http://www.toyoink.co.jp/en/index.html
Posted: 2009/03/30 06:00:15 AM