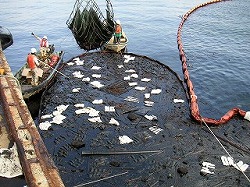 Copyright The Japan Environment Association (Cleanup of an oil spill at the port of Hatsukaichi)
The Japan Environment Association awarded Eco Mark certification on November 19, 2004 to an oil absorbent pad manufactured with Japanese cedar bark. The bark is generated in the sawmilling process, and is dried, broken into small pieces, and packed in a cotton bag to form the pad. This product was recognized as a green product because it is made from completely natural materials, 70 percent of which is bark that would normally be treated as waste.
The product is capable of absorbing more than nine times its weight of oil, and is used to remove oil from spills in the sea or rivers. In September 2004, it contributed greatly to the complete cleanup of an oil spill at the port of Hatsukaichi, Hiroshima Prefecture. Since this incident, its high-quality performance has become widely recognized. It is also effective for removing oil in factories and absorbing paint solvents used in graffiti removal.
The used pads are incinerated, but they cause relatively little environmental impact as they are 100 percent natural. Moreover, it has been proved that the used pads, along with the absorbed oil, can be decomposed by microorganisms in the soil, and further research has been launched to identify other areas for their practical application.
The oil absorbing pad was jointly developed in 2001 by the Oita Industrial Research Institute and the Maritime Disaster Prevention Center. It is manufactured by Bungo Yuki Hiryo, Inc. and is distributed by Irimajiri Corp.
Posted: 2005/03/05 11:13:48 AM
Japanese version