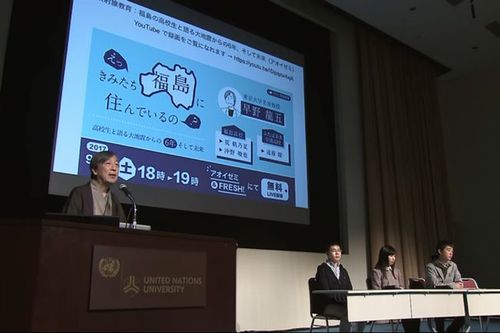 Source : Ministry of the Environment
How is the current situation in Fukushima being communicated today, and how are different stakeholders working to shape the message? Here we introduce initiatives in education and the media from Part 2 "How the State of Fukushima Today is Being Communicated - Case Studies" of the panel discussion "Update Fukushima - Support Fukushima by Learning and Sharing with Others" held in February 2018.
Building a Fukushima model for global disaster-recovery education
The Fukushima Ambassador Program being implemented by Fukushima University invites overseas students from affiliate universities on a short-term stay of two weeks. During their stay, they visit disaster-stricken areas together with Fukushima University students to deepen their understanding of past, current, and future issues in Fukushima. Since the start of the program in 2012, visits have been organized 12 times with 154 students participating so far.
Feedback from foreign students in the program include: "I want to tell others about all the great things we learned about Fukushima through the program" and "I want to tell people about not just the lessons from the Fukushima accident, but also how wonderful and warm the people of Fukushima are and all its local charm." A local Japanese student said, "I feel more confident about telling the world about Fukushima."
Fukushima University plans to continue the program and is building a "Fukushima model" for global disaster-recovery education, one that includes training foreigners who want to contribute to Fukushima's recovery by communicating its status and Japanese people who can communicate in English.
Shaping Fukushima's Message in the Age of Social Media
The Discovery Channel created a documentary program to introduce Fukushima's recovery process to a wide audience, particularly to people in Southeast Asia who are interested in Japan. In the documentary, three young people - an environmental scientist, a YouTuber, and a photographer; all social media influencers - visit Fukushima to interview local people and see current conditions firsthand.
The Discovery Channel hopes the program will resonate with viewers as a memorable story that integrates the three interviewers' authentic storytelling with the Discovery Channel's Hollywood-style journalism.
Reaching overseas audiences through television
Aired in 18 Asian countries, TV-U Fukushima broadcast a special documentary on the current state of Fukushima as part of a regular program introducing the Japanese economy, business, culture and trends. Through the documentary, TV-U Fukushima hopes to present Fukushima in a manner true to life.
Evaluate, know, learn and communicate
Three high school students from Fukushima spoke at the University of California, Berkeley, in October 2017 to share lessons from the disaster and Fukushima's message for the future. A total of 122 people including Berkeley students and university staff participated in the event, which was covered by many international media.
The three students commented, "It's important to have a general understanding not only about the existence of radiation but also its quantity. I hope people will keep offering their attention to Fukushima, but with the right knowledge," "People will be left with a positive impression of Fukushima if we talk about its charms and positive attributes, so I will continue to tell people in Japan and around the world about Utsukushima Fukushima (Beautiful Place, Fukushima)," and "Even people coming from the same Fukushima prefecture will naturally have different experiences in the disaster and see their futures differently. I would ask that you learn about Fukushima with a flexible mind."