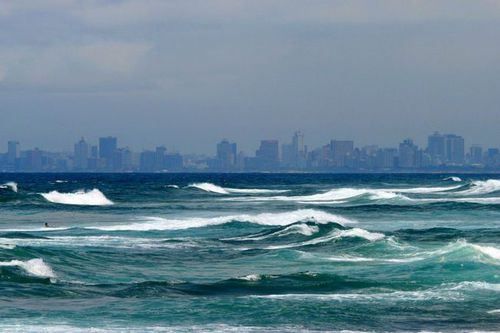 Image by Lynn Greyling.
The New Energy and Industrial Technology Development Organization (NEDO) in Japan announced on November 17, 2016, the launch of a demonstration project for an "integrated system of seawater desalination and water reuse," in collaboration with the City of Durban in the Republic of South Africa. Based on an energy-saving system developed by NEDO, they aim to address serious issues of water shortages caused by massive droughts in South Africa.
The new system uses excess water from the process of sewage treatment to dilute seawater (coming into the system to be desalinated) and decrease its salt concentrations, making it possible to cut electricity consumption by more than 30 percent compared to existing seawater desalination systems. Seawater desalination can often negatively affect the surrounding marine environment due to the discharge of highly concentrated saltwater. However, by desalinating diluted seawater the system can bring discharged water to about the same salt concentrations as seawater, thereby minimizing the effects on the marine environment.
NEDO and the city plan to build one of these units at a sewage treatment plant in central Durban within three years, capable of producing 6,250 tons of drinking water per day from seawater and recycled water, and demonstrate a reduction of at least 30 percent in energy consumption, with a reduced impact on the surrounding marine environment compared to conventional systems. They plan to develop this as future water supply project for Durban, and aim to spread the technology across South Africa, with its severe problems of water scarcity, and all over Africa.