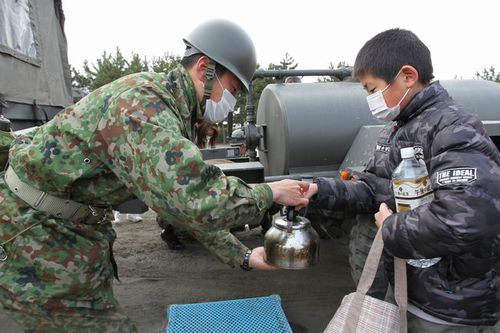 Image by Rikujojieitai Boueisho Some Rights Reserved.
The Association for Resilience Japan held its first Japan Resilience Award ceremony on March 15, 2015, at the Sendai Civic Auditorium in Sendai City, Miyagi Prefecture. The event was conducted by the association in conjunction with the Third UN World Conference on Disaster Risk Reduction, also held in Sendai. This article introduces the Association for Resilience Japan, which aims to contribute to building a country that is resilient to disasters.
In Japan, the Basic Act for National Resilience Contributing to Preventing and Mitigating Disasters for Developing Resilience in the Lives of the Citizenry (abbreviated to the Basic Act for National Resilience) was enacted on December 11, 2013. It aims to build national resilience, meaning, to build a country that has the toughness and flexibility to survive large-scale natural disasters in the future, with four goals: protect human lives; avoid critical damage to important functions of the nation and society; minimize damage to the property of the citizenry and public facilities; and contribute to swift recovery and reconstruction.
Based on Article 10 of the Basic Act for National Resilience, the Fundamental Plan to Promote Measures for National Resilience (abbreviated to the Fundamental Plan for National Resilience) was adopted by the Cabinet on June 3, 2014. It provides for policies to promote measures in each of 15 sectors, such as administrative functions/police and fire services, housing and cities, and energy.
The supplementary provision of the Basic Act for National Resilience includes the following: "It is indispensable that not only the national and local governments but also other entities including local residents, business entities, and relevant parties share information on the status of damage and others, prepare for large-scale disasters even in ordinary times, and utilize leading-edge technology and devices based on new technology innovation," indicating that public and private partnership and companies' cooperation are important.
In order to promote smooth implementation of the Fundamental Plan for National Resilience, the Association for Resilience Japan was established in July 2014, with the aim of helping build national resilience by bringing together knowledge and information from industry, academia, government, and the public. It is engaged in building an integrated plan of measures concerning national resilience and in promoting the measures. It also works for promoting people's understanding of national resilience and encouraging them to take action.
In November 2014, the association launched the Japan Resilience Award to target initiatives across the country to build a resilient society for future generations. It expects the award system to encourage those initiatives through the process of discovering, evaluating, and awarding. It called for entries from businesses and groups working for technological development, product development, or other activities that contribute to building national or regional resilience, or to fostering personal or industrial resilience.
The first Award had about 200 entries. After documentary examination and a final examination by reviewers, a grand prize went to the program "Disaster Prevention Study Learning from Shinjo Seismology" by Shinjo Junior High School in Tanabe City, Wakayama Prefecture.
Shinjo Junior High School is located in the area where tsunami damage is predicted due to a future earthquake expected in the Nankai Trough, experts are concern will occur in the early 21st century. Aimed at building a response capacity amongst residents against a tsunami, the school has been providing a class called Shinjo Seismology to all students for the past 14 years to learn from past disasters.
As the result, the number of people who have gained knowledge through the program is gradually increasing, making the city a highly-motivated community in disaster prevention. The school also gives presentations and distributes calendars every year to draw residents' attention to disaster prevention. These voluntary activities are helping to remind people of past damage and raise awareness of appropriate disaster prevention.
Japan Resilience Award is planned to be held every year. The next period for entries is scheduled from October to December 2015.