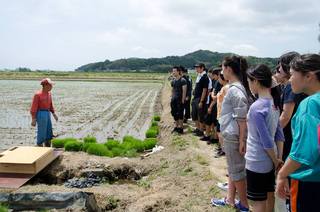 Copyright Teen for 3.11

A group named "Teen for 3.11" (TF3) launched its activities on April 2, 2012, to help people in the disaster-affected areas in the Tohoku region of Japan recover from the earthquake of March 11, 2011. TF3 has been working on creating opportunities for teenage youths to participate in relief activities and on building a network to prepare for possible future emergencies, such as another earthquake.
Many young people in their teens, especially high school students aged 15 to 18, are limited in their ability to participate in relief activities as much as they would like to, because they spend most of their time at school, making it difficult to find the time and get their parents' permission to participate in such activities. TF3 encourages them to register to get on group's e-mail magazine list, where they can get information about Tohoku fair events and various activities aimed at helping with recovery efforts. In cooperation with local high school students, the group plans to build a network of teenagers living in Tohoku and other parts of Japan, and make their unique relationship closer and stronger than ever.
TF3 is preparing a printed booklet aimed at keeping people updated about Tohoku, as an effective way to convey messages. Designed to remind the public of the March 11 earthquake and make relief activities more common, it is scheduled to be published regularly starting in autumn 2013.
Some 80 teenagers are now working with TF3, and the number of people registering with the group is growing in many areas, especially in the Kanto district, a central part of Japan that includes Tokyo.