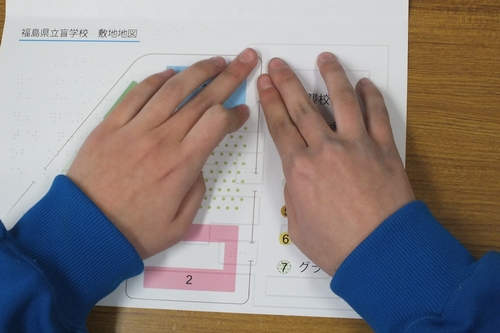 Copyright National Institute of Special Needs Education

Koki Doi, a principal researcher at the National Institute of Special Needs Education, and his team announced in March 2013, that they had developed a technology for printing high-resolution Braille documents and tactile graphics in a short time. User-friendly Braille size was determined on the advice of Professor Hiroshi Fujimoto of Waseda University, and Doi's team developed a device to print Braille and tactile graphics jointly with Musashi Engineering Inc. in Mitaka City, Tokyo.
The team performed a test printing of a school pamphlet with Braille and tactile graphics for the Fukushima Prefectural School for the Blind. Using the new technology, it takes only a few hours to print the document, while it would take two weeks to print the same material using the conventional screen printing method.
The conventional printing method cannot illustrate detailed graphics or ensure sufficient embossment. The new technology is designed to apply ink at high speed without touching the printing surface. By applying water-clear ink (UV ink) over hand-written letters (printed letters for sighted person) and applying Braille on the side, it creates comprehensible tactile graphics with high resolution.
Related JFS article:
Kurimoto Ltd. Develops Fuel-Cell Wheelchair that Runs 14-Hours
Remote Note-Taking Service Coming for Hearing-Impaired