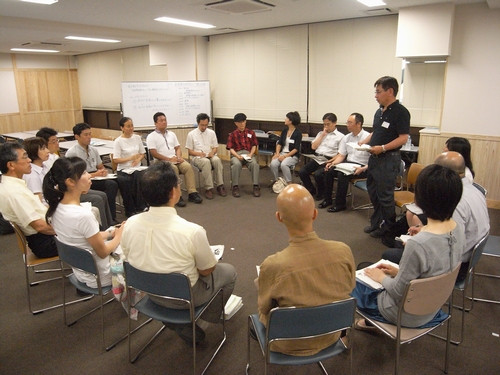 Copyright Shiga Prefecture

A group of citizens in Shiga Prefecture in Japan announced in December 2012 the creation of the "Smile Index" as a measure of well-being. The index is the upshot of discussions held in "Future Strategy Salon," a local public forum launched by Shiga in fiscal 2011 to discuss policies affecting its future. In fiscal 2012, the forum's second term, four meetings were held with 33 participants under the theme "good life."
The index identifies six factors that contribute to a good life: time, place, people, material things, food, and mind. For example, the group defined a satisfactory state of time as "having more than enough time with family" and "having time that can be spent freely," identified key strategies to achieving these goals such as "coming home earlier" and "shorter traveling time," and proposed specific actions such as "providing more convenient bus and rail services" and "having 'happy week' (spending one week per year for yourself or with your family)."
The group suggests 36 specific actions for improving well-being. Unique among them are original ideas such as establishing a "mibyo utopia" (center for the prevention of diseases at presymptomatic stages) to be at the forefront of medical tourism and preventive care and a "moneyless village" to promote a barter economy, as well as regionally specific ideas such as choosing "my favorite Kannon (Goddess of Mercy) statue" in the prefecture to encourage pride in local history and culture.
"We have been working hard to improve the well-being of residents here, but an index that measures the success of our efforts is hard to develop. The Smile Index is an attempt to help us prepare plans and assess their effects," said Chiharu Matsuda, deputy associate director of the Planning and Coordination Division, which is responsible for basic administrative planning, suggesting the intention to use the index in prefectural administration.