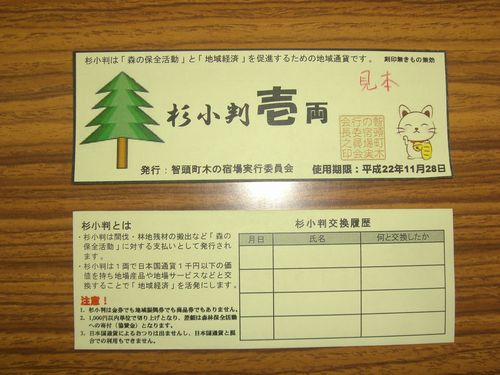 "The Executive Committee for Woody Posting Station" in Chizu-cho, Tottori Prefecture, conducted a pilot project to collect forest-thinning materials from villagers for a month, from October 16 through November 14, 2010. It was aimed at promoting the use of forest-thinning materials and local revitalization through wood collection and sale to wood-chip producers, along with the circulation of a local currency called "Sugi-Koban" (an oval coin made of Japanese cedar). The test circulation of the currency was carried out until November 28, 2010.
Chizu-cho is a town that once had a flourishing Japanese cedar industry, but as a consequence of the forestry downturn, it is struggling with weak market prices for woodand difficulty in finding people to be successors to take over forest management, the same as the national trend. Led by the agriculture and forestry division of the Chizu-cho Hundred-People Committee, which was considering solutions to these problems, a committee was formed with non-profit organizations, including a participating university, and the project came to realization.
The experiment was aimed at engaging villagers who have lost interest in their forest and have never shipped anything to the virgin wood market, yet are unaware of their "treasure-trove." To lower shipping barriers, the committee accepted timber measuring the length of a pickup truck bed, and paid people with the local "Sugi-Koban" currency in an amount equal to 6,000 yen (about U.S.$72) per ton, which was partly funded by subsidies. The committee set a goal of collecting 150 tons. On the first day of the experiment, a line of 23 pickup trucks queued at the collection point, and at the end, they had collected about 196 tons from 29 people.
The committee expects to deploy this project as a model for village development in mountain regions, and plans to conduct it as a year-round project in the next fiscal year.
Posted: 2011/02/09 06:00:15 AM