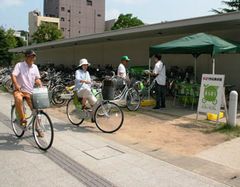 Copyright Kanazawa City
On August 21, 2010, Kanazawa City launched a demonstration test of its municipal bicycle rental service, "Machinori (bike-riding in town)." Registered users can rent bicycles and return them to any municipal bicycle-station in the city, allowing bicycles to be used for a wide variety of tasks such as business, commuting, going to school, and sightseeing.

Municipal bicycle-stations have been established at ten sites, including Kanazawa Station, Kenroku-en, a famous Japanese garden, and the 21st Century Museum of Contemporary Art, Kanazawa. The bicycle stations currently have a total of 100 bicycles, and people can register for membership for free via a website, by submitting a registration form by fax or post, or by visiting a cycle-port.
The rental fee is 1,000 yen (about U.S.$12.04) per month for commuter use, but for a one-ride use, the fee is 200 yen (about U.S.$2.40) . If the ride time is less than 30 minutes, users can use the bicycle again without any additional charges for the day, but when a ride-time passes 30 minutes, an additional payment of 200 yen is charged for each 30 minutes. The bicycle-stations operate from 7:30 to 20:30 on weekdays and from 9:00 to 19:00 on weekends and holidays.
The demonstration test was conducted for 61 days through October 20. The accumulated times bicycles were used was 21,622, with an average of 354 times per day, and each bicycle was used about four times a day. The city plans to analyze the test results with regard to usage and other issues.
Bike Rental Service Starts in Local Town in Nagano Prefecture (Related JFS article)
http://www.japanfs.org/en/pages/029676.html
Japanese City of Anjo Expanding Eco-Cycling Project (Related JFS article)
http://www.japanfs.org/en/pages/028612.html
Posted: 2010/11/29 06:00:15 AM