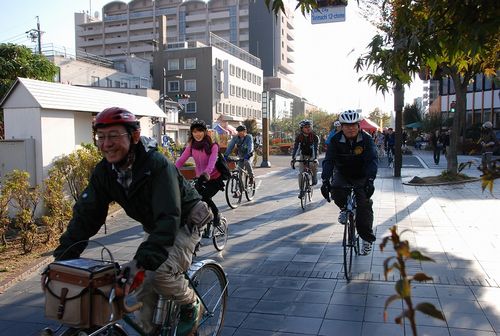 Copyright Iida City

Iida City in Nagano Prefecture launched a bicycle rental service on October 26, 2009, targeting its citizens and tourists to the city. The city aims to publicize itself as a bicycle-friendly city as well as create a low-carbon city where cars are currently the major means of transportation.
Calling for reductions of carbon dioxide emissions by 2.3 kilograms through a 10 kilometer bicycle ride in place of driving a car, the city is keeping 130 bicycles including electric bikes, cross-over bikes and mountain bikes at 37 places in the city's central area, including at public facilities, commercial buildings, hotels and junior high schools. The map distributed to users includes emergency contact numbers, along with the information on rental locations and bicycle types.
After the trial period from October 26, 2009, to March 31, 2010, the city plans to officially start the service on April 1, 2010. An opening event was held on November 8, 2009, and participants enjoyed a talk show followed by a bicycle excursion in the city.
Japanese City of Anjo Expanding Eco-Cycling Project (Related JFS article)
http://www.japanfs.org/en/pages/028612.html
IIDA CITY: "AN ENVIRONMENTAL TOWN INSPIRES OTHERS" No.18 (February 2004)
http://www.japanfs.org/en/mailmagazine/newsletter/pages/
027934.html
Posted: 2010/01/30 06:00:15 AM