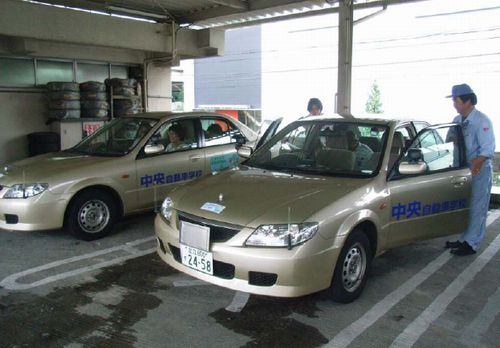 Copyright Koto Ward

Tokyo's Koto Ward announced, on August 4, 2010, new measures to reduce carbon dioxide (CO2) emissions from vehicles as one of the key strategies for achieving its CO2 reduction target. In an effort to accelerate the use of electric vehicles (EVs) which produce no tailpipe emissions, the ward will improve infrastructure for EVs, such as battery charging facilities. In addition, it will support the promotion of eco-driving techniques for increasing fuel efficiency of vehicles.
The ward government recently revised its guidelines for the construction of condominiums in Koto Ward to encourage condo owners to install charging facilities for EVs. Under the revised guidelines, which went into effect in August 1, 2010, parking lots for new condos are expected to have sufficient EV charging facilities (AC 200 V) for more than 10 percent of the parking capacity. This is the first initiative of its kind in Japan. In November 2010, the ward will install a rapid charger at the parking lot for the ward office, and will allow citizens to use them for free.
To facilitate the purchase of EVs, the ward has created an environmental conservation fund as part of its loan program for small and medium businesses, and will provide financial support through loan facilitation and interest subsidies. The ward also intends to form a partnership with other organizations, such as the EV and pHV Promotion Partnership Council, aiming to increase the use of EVs.
With regard to the promotion of eco-driving techniques, the ward has been offering free workshops since fiscal 2009. Participants of the workshops held in fiscal 2009 reportedly achieved an average 50 percent improvement in their fuel efficiency.
METI Selects Eight 'EV & pHV Towns' for Promotion (Related JFS article)
http://www.japanfs.org/en/pages/029388.html
Posted: 2010/11/22 06:00:15 AM