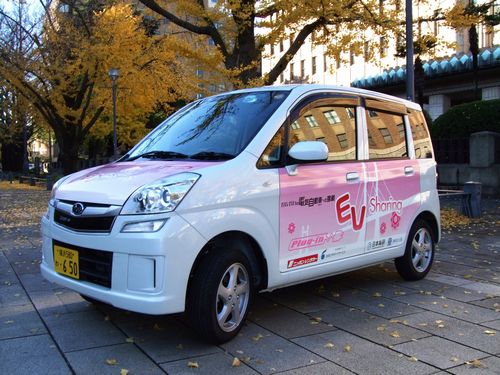 Copyright Prefecture of Kanagawa

The prefecture of Kanagawa launched a model project last fall, the first of its kind in Japan, to promote the use of electric vehicles (EVs) as a possible solution for environmental and resource issues. Under the project, being implemented from September 19, 2009, through to March 19, 2010, the prefecture uses two rented EVs for official use on weekdays, and then rents them out to residents on weekends and national holidays.
The two EV models are the iMiEV from Mitsubishi Motors Co. and the Subaru Plug-in Stella from Fuji Heavy Industries Ltd., with sales of both launched in July 2009 in Japan. Nippon Rent-A-Car and Mazda Rent-A-Car Times Station are in charge of the rental service operations. The weekend rental fee can be as low as 5,250 yen (about U.S.$57), including tax, for the first three hours, thanks to the prefecture's weekday rentals. The immediate aim of the project is to give people the chance to experience driving an EV.
With a target of having 3,000 EVs on the road by fiscal 2014, Kanagawa is working to promote the use of EVs through a variety of measures, as it is one of the "EV & pHV Towns" (pHV stands for plug-in hybrid vehicle) designated by the Ministry of Economy, Trade and Industry, a program aimed at promoting the use of eco-friendly cars.
EV Fast-Charging Service to Be Tested at Gas Stations (Related JFS article)
http://www.japanfs.org/en/pages/029450.html
METI Selects Eight 'EV & pHV Towns' for Promotion (Related JFS article)
http://www.japanfs.org/en/pages/029388.html
Posted: 2010/01/17 06:00:15 AM