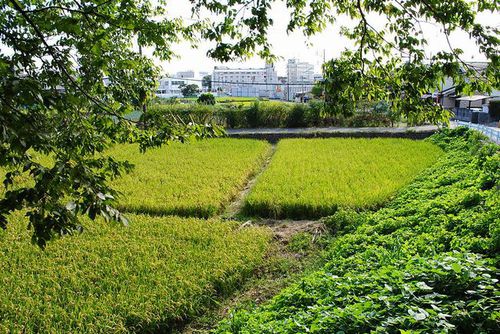 Image by Onoatsushi Some Rights Reserved.
A new power generation method using weeds as fuel has been developed in Japan. In this method, methane generated from weeds directly operates a gas engine to generate power. Methane has a high global warming potential and is easily generated, even from rice straw left in rice paddies. This weed-fueled generation method is expected to contribute to the effective use of methane.
The Center for Innovative & Sustainable Society Creation of Meijo University in Aichi Prefecture announced on January 19, 2018, that they succeeded in power generation using weed-derived methane, which can directly fuel a gas engine.
The first part of the method is as follows: mow weeds, mixed them with soil, submerge the mixture and coat it with a sheet in order to maintain oxygen-free conditions, under which microbial fermentation is able to generate methane gas. The next process is to collect methane gas through the recovery system, directly put it to a gas engine, and generate power. The generated power and the exhaust heat from the generation process can be used to provide hot water (co-generation system), which is useful for agricultural applications such as supplying hot water to green houses.
Under anaerobic conditions, such as in rice paddy soil, methane, a potent greenhouse gas, is generated naturally as organic matter like rice straw is decomposed by microbes. Concerned by this problem, Meijo University's Faculty of Agriculture started a demonstrative investigation in 2010 to develop a method to utilize the methane generated from rice straw left in rice paddies. They wanted to utilize the methane as a locally produced energy source for local consumption, aiming at practical uses.
This new method is known as the GET system, referring to an innovative resource-cycling and energy-creating agricultural system. The G in GET refers to methane gas, the E refers to energy and T refers to tambo (rice paddy in Japanese), and the term GET also reflects the idea of "getting energy via methane gas from tambo." This project was designated by Aichi Prefecture in fiscal 2016 as experimental research conducted in the Aichi New Energy Research Area and its operation was successful.
Meijo University has been working on a project to develop an infrastructure-less system to generate renewable energy of a "local production for local consumption" type, and to put the system into practice. The newly developed method is a part of this project. Professors and researchers of the Faculty of Agriculture and the Faculty of Science and Technology conducted a demonstration of the power generation method before the press and ordinary visitors in January 2018, at the New Energy Research Area at "Knowledge Hub Aichi" (straddles the cities of Toyota and Seto in Aichi Pref.)
Their demonstration of this biomass energy-generating process also convinced the audience that it effectively utilizes waste weeds and unused spaces. They brought in weeds mowed from river banks in Seto in October 2017, submerged them, and generated methane at the site. Using a household-use gas engine fueled by methane, they succeeded in generating enough power to light up 10 bulbs and operate an 800-Watt electric stove. In addition, they generated more power using methane generated from rice straw harvested at a university-affiliated farm and were able to light up a desk lamp, turn on a television, and running a personal computer using the electricity produced.
Source: Smart Japan (in Japanese)