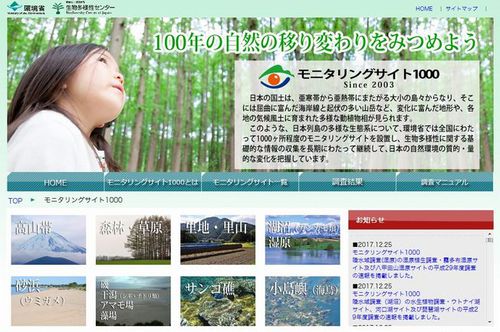 Monitoring Sites 1000 website
The Japanese Ministry of the Environment announced on October 11, 2017, that it has followed up on climate change adaptation measures carried out in 2016 and compiled its findings into a report. Below, we provide an outline of the report, including a background to Japan's planning of adaptation measures.
Promoting adaptation planning to avoid and mitigate the harmful impacts of climate change is an important priorities. The government has been advancing adaptation measures in a comprehensive and systematic manner through related ministries, based on the adaptation plan for climate change impacts adopted by the Cabinet on November 27, 2015.
Now, more than a year after the plan's adoption, the government has followed up on measures conducted in FY2016 through a dedicated interministerial liaison committee.
In the follow-up, the respective ministries were asked to fill out survey forms on adaptation measures to ascertain progress. The measures spanned seven areas of adaptation planning (agriculture, forestry and fisheries; water environment and resources; natural ecosystem; natural disasters and coasts; health; industry and economic activity; daily living and urban life) and core initiatives and were further classified into 56 groups. For 38 of the 56 groups, the ministries set their own indicators to measure progress.
Here we describe a measure and indicator for natural ecosystems as an example. Actions taken for this measure include Monitoring Sites 1000, a project designed to provide early detection of quantitative and qualitative degradation of the natural environment through monitoring sites across the country, as well as efforts to create a network of various natural and artificial habitats for conservation and restoration purposes. The number of marine water areas where a red tide/hypoxia survey (14 water areas in FY2016) was conducted was set as one indicator.
The liaison committee plans to continue to follow up and release a report on its findings on an annual basis going forward. In next follow-up, it intends to make necessary improvements, such as by creating indicators of progress across basically all adaptation measures in a way that is consistent with follow-ups in each area. It will also continue discussions on how to eventually gauge the effectiveness of adaptation measures in each area.
Through repeated follow-ups, it is hoped that the government's plans to promote adaptation to climate change impacts will be implemented in a more systematic manner.