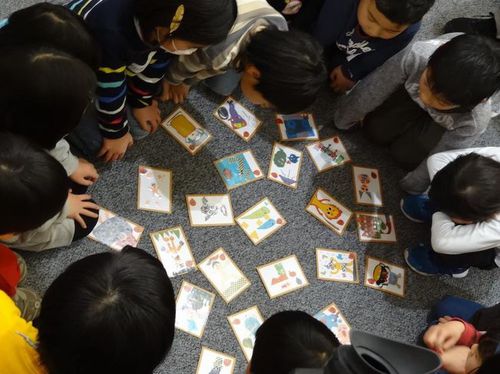 Copyright Enra Enra All Rights Reserved.
A team of three Japanese child-rearing mothers, "Enra Enra," formed in 2015, is supporting parents and their children through workshops held at schools, nurseries and community centers. The team--Ichi-Yon-Go, group leader and author of children's books featuring ghosts; Yukinko, facilitator; and Yosshii, workshop designer and writer--want to help parents and children enjoy the time they spend together. Their greeting words are "Gokigenyo-kai," a word play meaning 'Hello, sweet ghosts' or 'See you, sweet ghosts.'
In their workshop, dubbed "School for Sweet Ghosts," children and parents enjoy word play and cutting paper to make picture cards of various ghosts, and reading cards on which they write words describing the ghosts. Participants channel the negative feelings they experience in their everyday lives such as indecisiveness, worry, confusion and frustration into the ghost cards they create. When all the picture cards and reading cards are made, they play games with the cards and have lots of fun together.
At the workshop, participants sometimes burst into laughter when a ghost appears embodying child-rearing problems with which they sympathize. The transformation of frustrated feelings into visible figures of ghosts allows them to see their feelings objectively. This then enables them to experience changes in their thinking and feeling.
As of November 2017, the team marked their 100th workshop and card game event with more than 2,500 participants in total. In addition to the workshop for parents and children, they are now receiving a growing number of requests for adult-focused workshops from people working in fields related to children's education and childcare. The team intends to evolve their workshop activity further as they seek better solutions to current societal needs.