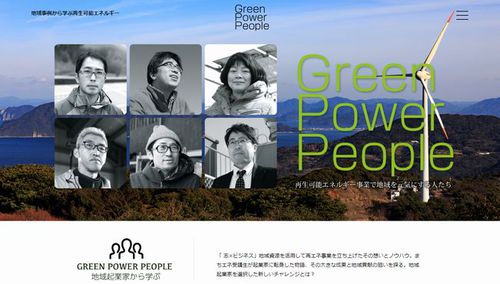 GreenPowerPeople website
The Green Power Work Shop, a business school organized by the Agency of Natural Resources and Energy, took place in November 2017 in five cities in Japan. The school is designed to provide personnel training to support local businesses utilizing renewable energy, thus promoting sustainable development in local economies.
After the two-month application period and subsequent application reviews, the following cities were selected as the venues for the 2017 school: Aomori (Tohoku region), Hanno (Kanto region), Fukuyama (Chugoku region), Tokushima (Shikoku region), and Takeda (Kyushu region). The application process favored collaboration among local stakeholders such as residents, municipalities, and local financial institutions over individual businesses.
Four sessions will be held at each venue, with a capacity of 50 people per session, and no charge for participation. Lecturers include representatives from renewable power generation companies in leading sustainable communities, as well as financial specialists. Participants will gain a basic understanding of the renewable energy business in class, and experience business processes from planning to implementation through workshops.
The Green Power Work Shop was launched in 2013 and in four years, has been held at 23 venues and attended by over 700 people. More than 90 new region-specific business plans have been developed through the program. The hands-on learning in the school is expected to promote increased utilization of local renewable energy sources and contribute to the revitalization of local economies.