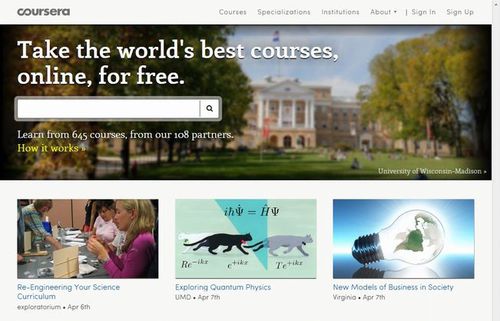 Image by coursera website
Japan Massive Open Online Course Council (JMOOC) began operations on October 11, 2013. The council provides a large-scale online education platform where many university level classes are freely available. It is also committed to raising awareness of its service. Cooperating with private companies, including Fujitsu Ltd., universities and specialists, the council provides open online education in Japan, as well as internationally.
Open education originates in the Open Course Ware (OCW) publicized by the Massachusetts Institute of Technology (MIT) in the USA in 2001. The open education has participants from 277 organizations in 49 countries and offers about 25,000 courses internationally. Massive Open Online Course (MOOC) has developed rapidly since 2012, in which from tens of thousands to 100,000 people registered and studied from the USA and all over the world. There are universities that certify MOOC course as their formal credits or companies that look for qualifications granted by MOOC when screening applicants. Considering these social circumstances, Japan also needed to prepare a foundation for open education as soon as possible.
The council intends to create new social value and extend recognition of the system by leading the operation and evaluation of their courses.