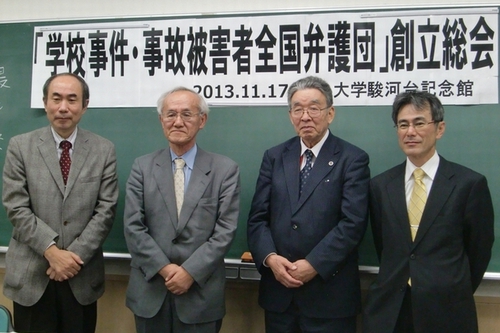 Copyright National legal team for victims of school incidents and accidents
All Rights Reserved.
To support victims of bullying and physical punishment at school, as well as the bereaved, a lawyers' network, dubbed the "national legal team for victims of school incidents and accidents," was set up on November 17, 2013.
Participating lawyers (about 60 initially) first find out how an incident occurred by taking part in a meeting with the board of education, and then prepare for a lawsuit, if necessary. The network continues to recruit lawyers around the nation to provide consultation services in each prefecture, aiming to create a structure to arrange for nearby lawyers to consult with victims or the bereaved.
The growing seriousness of the situation is one of the reasons for establishing the initiative; some school students commit suicide due to bullying or excessive physical punishment. The number of arrests and students put in custody by police officers in bullying incidents decreased after a steep increase in 2006, but rose again sharply in 2012 to 511. Research by the Tokyo Metropolitan Board of Education revealed that nearly half of the public school students who had experienced bullying said that they didn't talk to anyone about it. The research results also show that victims are likely to feel isolated.
The government is also grappling with the issue. To protect schoolchildren from bullying, on September 28, 2013, the government put into effect new legislation to promote preventive steps and countermeasures against bullying (known as the Anti-Bullying Act), which stipulates the responsibilities of schools and the local governments. In October 2013, it also notified boards of education throughout the nation of its basic policy to deal with bullying (anti-bullying policy) with concrete measures.
Written by Kazuko Kojima