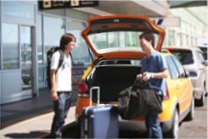 Turnturtle Co.
Turnturtle Co., a Japanese venture company, began to offer the first ride-share matching system for the city hall staff of Imizu, in Toyama Prefecture, from December 3, 2012. This system is based on their website, notteco! (meaning "Let's ride!"), which is open to the public to spread the idea of ride-sharing as a transport option for long-distance travel.
Those who have registered on the matching site are informed if any city hall staff are commuting on a similar route around the same time. They can get access to the special site via personal computer, mobile phone, or smart phone and make a meeting arrangement with other participants. The number of ride-share trips is counted to make a ranking list on the notteco! website to encourage ride-share commuting.
The ride-share percentage of Imizu's city hall staff in fiscal 2011 was 14.8%, and estimated carbon dioxide (CO2) emission reduction was approximately 2.2 tons. Through these initiatives, the company is striving to increase the participation rate to 30% from December 2012 through March 2013, and to reduce CO2 emissions by approximately 3.7 tons in fiscal 2012.
Related JFS article:
Ridesharing Campaign Launched in Fukui Prefecture