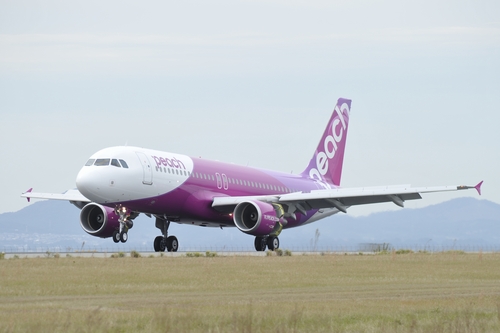 Copyright Peach Aviation

Peach Aviation, Japan's first low-cost carrier based at Kansai International Airport, announced on August 24, 2012, the trial launch of a continuous descent arrival, or continuous descent approach (CDA), scheme during late-night and early-morning hours. It would adopt this method for all aircraft landing at Kansai International Airport from Hong Kong during these low-traffic hours.
CDA is a method by which aircraft approach and land at airports, descending continuously from the top of descent, or cruise altitude, and maintaining a proper angle until landing. This procedure eliminates nearly level flight, which normally occurs during the descent phase in a conventional approach, thereby reducing fuel consumption and carbon dioxide (CO2) emissions. An Airbus A320, for example, can reduce 300 to 800 pounds of fuel consumption per landing by adopting CDA.
Related JFS article:
ANA, Boeing Conduct First 787 Transpacific Flight Using Biofuel
JAL 'Sky Eco' Project to Cut CO2 by 20% by 2010