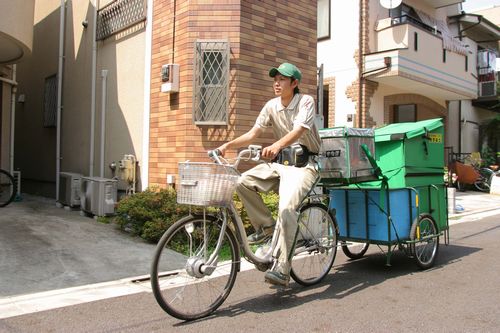 Copyright Yamato Transport Co.

Yamato Transport Co., a major parcel-delivery company, is working on opening satellite centers to handle parcel collections and deliveries using carriages and electric-powered bicycles with rear carts instead of trucks.
The company intends to curb corresponding annual increases in vehicles and parcels by improving the efficiency of parcel collection and delivery in downtown and overcrowded residential areas. This endeavor aims to reduce the emissions of carbon dioxide (CO2) and other air pollutants. Due to decreases in illegal parking and traffic congestion, this endeavor is also citizen- and city-friendly.
The company aims to open a total of 1,000 satellite centers by 2012. Although the areas offering vehicle-free collection and delivery services are limited, the company has 971 centers as of the end of March 2010, after opening 13 centers in fiscal 2009.
For areas that cannot be covered by these centers, the company is trying to reduce the use of vehicles as much as possible by adopting appropriate methods for parcel collection and delivery, depending on the following area sizes. For areas within a 400-meter radius, carriages and electric-powered bicycles with rear carts are used. For areas within a 400- to 800-meter radius, mini vehicles are used. For larger areas outside of an 800-meter radius, low-emission vehicles travel along set routes, and parcels are collected and delivered using carriages.
Yamato Transport Delivers by Electric-powered Bicycle (Related JFS article)
http://www.japanfs.org/en/pages/027735.html
Posted: 2011/06/05 06:00:15 AM