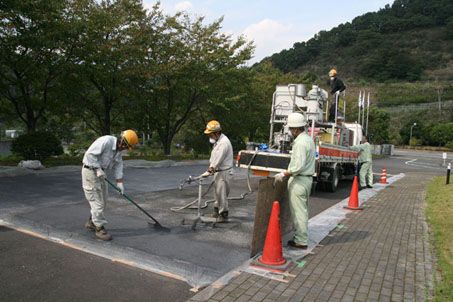 Copyright Fujita Corp.

Fujita Corp., a mid-sized general construction firm in Tokyo, announced on October 3, 2010 that they have established a road pavement technology that captures and decomposes volatile organic compounds (VOC) in emission gases from cars. They have developed the new technology jointly with Taiheiyo Cement Corp. and Fujita Road Construction Co., making use of a joint research achievement with the National Institute of Advanced Industrial Science and Technology (AIST).
Fujita and these firms previously developed a road pavement technology that cleans nitrogen oxides (NOx) in the emission gases from cars in 1999. NOx are oxidized under sunlight (ultraviolet rays) by the photocatalyst coating on the sophisticated pavement and are converted to neutral calcium nitrate, which is captured by the pavement surface. Nitrate and calcium ions are washed away as harmless compounds by rainwater.
The new road pavement technology, named "Photoroad Technology Clean Ox (Oxidant)," is more advanced than conventional road pavement technology, featuring the new VOC cleaning function in addition to the NOx cleaning capacity, which has been improved by 50%. VOC are captured and decomposed by an adsorbent present in the coating agent sprayed on the pavement surface. This new technology for cleaning VOC on roadsides is the first such technology developed in Japan. According to estimates based on laboratory experiments, about 20% of VOC emitted by cars can be cleaned, and the NOx emitted by 12,000 cars can be treated in a single traffic lane each day.
Fujita is aiming to propose that central and local governments, large-scale factories and distribution centers use the new pavement technology for roads in urban areas and exterior roads in private facilities.
Posted: 2011/02/16 06:00:15 AM