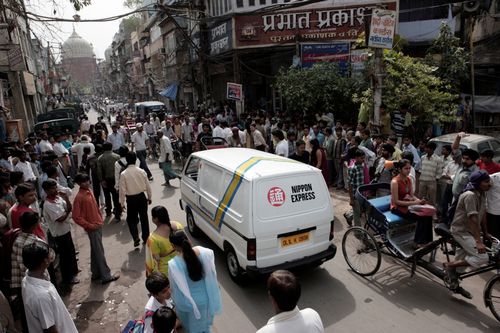 Copyright Nippon Express Co.

Nippon Express Co., a major Japanese freight company, announced on October 25 that its study project was selected for the second run in FY2010 as a Global Warming Mitigation Technology Promotion Program sponsored by the Ministry of Economy, Trade and Industry (METI). As part of this project, Nittsu Soken Co., a subsidiary of Nippon Express, conducts an investigation on a project to build infrastructure in Asia for reducing carbon dioxide (CO2) emissions in the freight industry using cloud computing.
The Global Warming Mitigation Technology Promotion Program is intended to contribute to reductions in greenhouse gas (GHG) emissions by transferring Japanese advanced environmental technology overseas and to establish a new mechanism to convert such reductions to Japanese emission reduction units through bilateral or multilateral agreements.
The Asian region, where the economy is rapidly growing and truck cargo volumes have continued to increase, has a pressing problem to reduce environmental loads in the distribution industry. In addition, data collection on greenhouse gas emissions from trucks has been difficult because emission sources are individual vehicles.
In this new project, the cloud computing technology of the Fujitsu group is used to collect information from terminals mounted on each vehicle through networks in order to efficiently measure reduction effects.
METI Adopts 15 Projects to Promote Climate Mitigation Technology Overseas (Related JFS article)
http://www.japanfs.org/en/pages/030403.html
Posted: 2011/02/15 06:00:15 AM