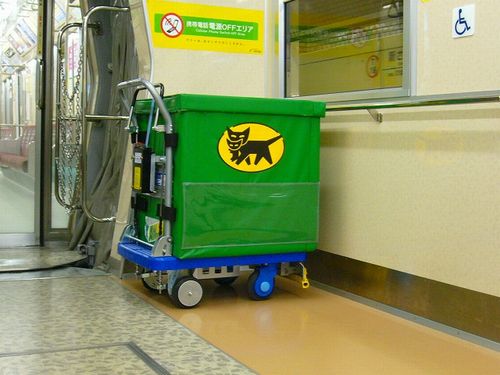 Copyright Sapporo City

Sapporo City, Hokkaido, in northern Japan, announced on June 17, 2010, that it would conduct a demonstration test of a logistics system that uses the municipal subway, the first attempt of its kind in Japan. The test aims to demonstrate the effects on reducing carbon dioxide emissions and mitigating traffic congestion. It will be conducted jointly with a research group on urban logistic system which comprises of academic experts and private companies.
Yamato Transport Co., Japan's largest courier service company, currently transports freight using 4-ton trucks three times a day from its transportation center in the suburban area to the central part of the city. Under the test, daytime transportation by truck will be switched to transportation by subway from Odori Station to Shin Sapporo Station (a distance of about 12 kilometers) on the Tozai Line (Sapporo Municipal Subway). The freight will be loaded and unloaded at these stations.
The aim of the test is to verify the effects on the reducing environmental impacts, mitigating traffic congestion in urban areas, and to determine the possible influence on passengers using the subway. The feasibility of the plan will be investigated after the test. The first test was conducted from September 2 through September 15. As for the winter season test, as the conditions are very different from those in summer, Sapporo City and the research group will decide on a course of action after investigating the results of the first test.
The demonstration test developed from a new idea formulated in discussions among researchers and private companies. This epoch-making initiative involving industry/academia/government is drawing people's attention because it requires no extra government budget, taking advantage of existing infrastructure, while helping to create a low-carbon society.
Sapporo City official website
http://www.city.sapporo.jp/city/english/
Posted: 2010/10/21 06:00:15 AM