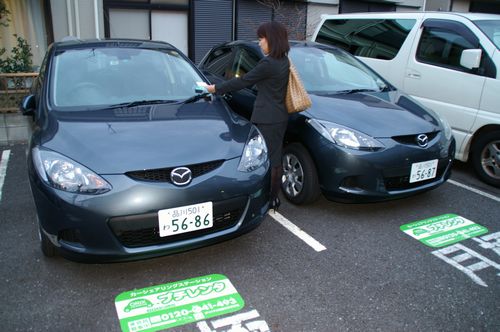 Copyright Orix Auto Corp.

Orix Auto Corp., a provider of automobile-related services such as car leasing, announced its plan to gradually add car sharing hubs around major train stations of the Tokyu Lines, Odakyu Lines, and Chuo Main Line in the Tokyo area, starting on October 10, 2009.
Orix aims to promote the European practice of taking trains to travel long distances and using a car sharing service within the vicinity of one's final destination. The company had already established car sharing hubs near all stations on the Yamanote Line - a busy commuter rail line that runs in a circle around the downtown Tokyo area - in May 2009. It significantly increased the number of its car sharing members and received requests for more hubs to be added around the stations of other railway lines.
The company plans to build new hubs around 25 Tokyu Line stations (33 hubs with 56 cars), 9 Odakyu Line stations (12 hubs with 21 cars), and 9 Chuo Main Line stations (13 hubs with 22 cars). All of these hubs will be located within a seven-minute walk of the station, with an average walk time of 3.1 minutes.
Orix also plans to establish hubs around subway stations in the Tokyo area: 3 Tokyo Metro Marunouchi Line stations (3 hubs with 6 cars) and 2 Toei Oedo Line stations at the end of December 2009. The company will continue enhancing the car sharing network that promotes convenience, cost efficiency and safety, hoping to actively reduce environmental impacts by reducing carbon dioxide (CO2) emissions.
Car Sharing in Japan: Growing in Popularity, Integrating into Transport Systems No.76 (December 2008)
http://www.japanfs.org/en/mailmagazine/newsletter/pages/
028678.html
Nation's First Effort to Combine Car-Sharing and Public Transport in Tokyo (Related JFS article)
http://www.japanfs.org/en/pages/029011.html
Car-sharing Stations Established near All Stations on Yamanote Line by ORIX (Related JFS article)
http://www.japanfs.org/en/pages/029286.html
Posted: 2009/12/11 06:00:15 AM