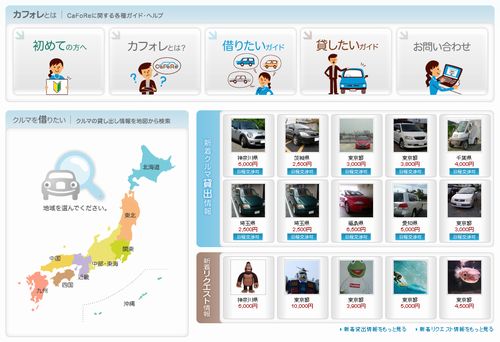 Copyright Bracket Inc.

Bracket Inc., a company that develops and operates Internet businesses, launched an online service for private car sharing, called CaFoRe, on April 13, 2009. CaFoRe is designed to match individuals who want to lend a car with those who want to borrow one.
In this service, Bracket provides individuals with opportunities online to post information such as the period that their car is available or the period they wish to borrow a car, the type of vehicle, and ways of delivery or return of the car. Lenders offer rental requirements on the company's website, and borrowers bid on those cars based on their needs. Lenders can make best use of their cars when they are not using them while borrowers can use a car only when necessary.
With the decline in vehicle ownership, car rental and car sharing businesses are rapidly expanding. The company aims to have 100,000 members within a year from the launch of the service.
Japanese Parking Company Launches Car Sharing Service in Downtown Tokyo (Related JFS article)
http://www.japanfs.org/en/pages/029322.html
Posted: 2009/10/25 06:00:15 AM