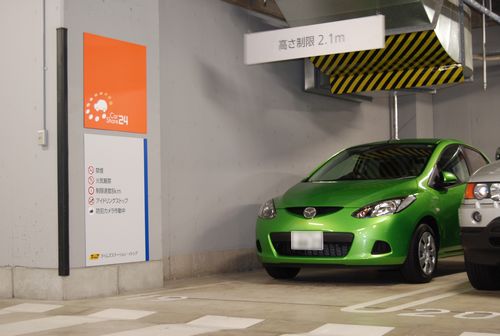 Copyright Park 24 Co.

Park 24 Co., a major parking service company in Japan, launched a car sharing business in downtown Tokyo in cooperation with its subsidiary, Mazda Car Rental Corp. The group's two new stations in Yurakucho and Ikebukuro began operations on May 29, 2009. A car sharing shop, "Car Share 24," and a new Mazda Car Rental shop both operate at each station.
Car sharing allows registered members to share vehicles. "Car Share 24" issues an IC card to certify membership of new customers, and members then access the car sharing service with the IC card. The company offers various car-sharing-fare plans, e.g., 4,200 yen (about U.S.$43) per month (Plan A), and these are typically less expensive for users when compared with driving and parking their own cars in downtown Tokyo. Car sharing also reduces environmental impact. The company charges rental fees based on 15-min blocks, which is convenient for short-term users, while standard car rental services are beneficial for users who rent cars for more than six hours; customers can choose either type of service.
The company began offering a discount plan of 3150 yen (about U.S.$32) per month for night time use (from 9:00 pm to 9:00 am) as of June 2009, targeting customers who use cars after work or shopping. The company plans to offer additional services in order to increase the use of car sharing.
Car Sharing in Japan: Growing in Popularity, Integrating into Transport SystemsNo.76 (December 2008)
http://www.japanfs.org/en/mailmagazine/newsletter/pages/
028678.html
Car Sharing Gaining Popularity in Japanese Cities (Related JFS article)
http://www.japanfs.org/en/pages/026694.html
Nation's First Effort to Combine Car-Sharing and Public Transport in Tokyo (Related JFS article)
http://www.japanfs.org/en/pages/029011.html
Park24 Co. official website
http://www.park24.co.jp/english/index.cfm
Posted: 2009/09/09 06:00:15 AM