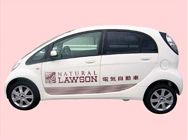 Copyright Lawson, Inc.
Lawson, Inc., a leading Japanese convenience store chain, announced on July 31, 2009, that it would introduce electric vehicles (EVs), eight in Tokyo and two in Osaka, for use in traveling between franchise stores from August 3, 2009. This is the first such move in retail business. Lawson also plans to install EV battery chargers at store parking spaces in targeted areas. In total, there are plans for 40 EVs and chargers at 25 locations in the Tokyo, Osaka and Chubu (Nagoya area) regions by February 2010.
Having used EVs on a trial basis since January 2009 to examine their traveling performance and charging times, Lawson was convinced that the idea of using EVs is feasible, if the use is limited to urban areas. As a result, the company decided to introduce EVs for commercial use. Concurrently, EV battery chargers will be installed on store premises, and store customers will also be free to use them for their own EVs. Lawson aims to cut CO2 emissions by introducing EVs and contribute to the acceleration of EV use in these areas by setting up battery chargers at its stores, which have long served as familiar community hubs to citizens on a day-to-day basis.
Mitsubishi Motors' i-MiEV and 200-Volt single-phase alternating current, plug-in type battery chargers will be introduced. The respective number of EVs and planned charger locations are 22 and 12 in Tokyo, 17 and 12 in Osaka, and one of each in Chubu.
Mitsubishi Motors Begins Sales of Electric Vehicles to Institutional Customers (Related JFS article)
http://www.japanfs.org/en/pages/029363.html
LAWSON, Inc. official website
http://www.lawson.co.jp/company/e/index.html
Posted: 2009/10/17 06:00:15 AM