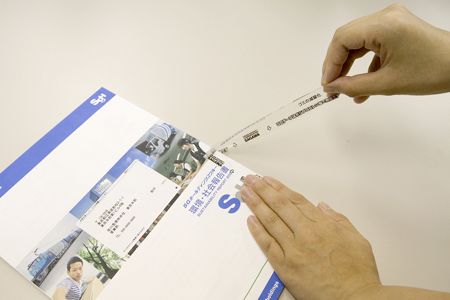 Copyright Sagawa Express Co.

Sagawa Express Co. announced on May 1, 2009, that the number of booklets sent via the Sagawa green mail service in fiscal 2008 increased significantly to about 550,000, approximately 3.8 times higher than the previous year. This is because more companies started using the Green Mail Service when sending corporate environmental reports or leaflets in light of the recent rise in environmental awareness.
The company started the Sagawa Green Mail service in March 2006. Under the service, a booklet can be sent without using an envelope. This service involves only three steps: sealing the open-side of a booklet with a special adhesive tape to prevent it from opening; placing an easy-to-remove address label on the front page; then mailing the booklet through the Hikyaku Mail Express or the Hikyaku You-Mail Express services.
When sending an A4-size booklet in a standard paper envelope, approximately 14 grams of envelope is discarded per delivery. On the other hand, when utilizing the Sagawa Green Mail service, the amount of trash is about 1 gram per delivery. Given that 10,000 booklets are to be delivered per month, approximately 1.56 tons of trash can be reduced annually.
Sagawa Express has launched several other initiatives aimed at contributing to environmental conservation, such as the Hikyaku Express service with carbon dioxide emissions credits.
Sagawa Express Co. official website
http://www.sagawa-exp.co.jp/english/
Posted: 2009/08/21 06:00:15 AM