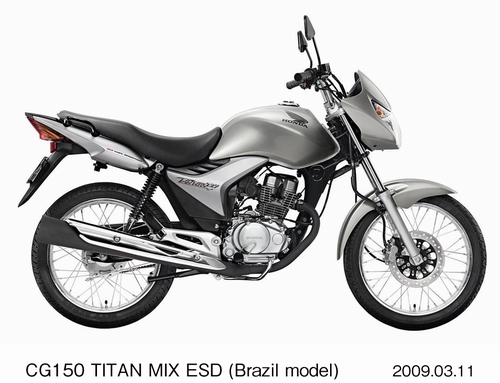 Copyright Honda Motor Co.

Moto Honda da Amazonia Ltda., a subsidiary of Honda Motor Co. in Brazil which produces and sells motorcycles and power products, launched the CG150 Titan Mix flex-fuel motorcycle in Brazil in the middle of March, 2009. The CG150 Titan Mix is a small-sized motorcycle which can run on gasoline-bioethanol mixtures in any ratio.
This model, which carries a Mix Fuel Injection System, a flex-fuel technology developed independently by Honda, is the first motorcycle in the world equipped with flex-fuel technology. Adopting the technology, the model helps to reduce carbon dioxide emissions as well as fuel costs.
In Brazil, flex-fuel automobiles are already popular, accounting for about 90 percent of the number of newly sold automobiles. However, Honda's new model is the first flex-fuel motorcycle in the market. The company intends to continue efforts to develop and promote motorcycles equipped with eco-friendly technologies.
RITE and Honda Develop Bio-Ethanol Production Technology (Related JFS article)
http://www.japanfs.org/en/pages/026516.html
Honda worldwide site
http://world.honda.com/
Posted: 2009/06/28 06:00:15 AM